Remarks to this publishing:
We don't publish copies or printscreens of emails. Addresses, phone numbers, websites, email address should stay private. We respect privacy rules. So i decided to just publish text out of the emails important for the case Daniel Polman.
Conclusion
Daniel Polman loses the "status of an unsupported finish"
The only thing allowed according to the spirit of unsupported racing is to take advantage of public services like bike shops, pharmacies, hotels etcetera.
Please do not discuss your opinion on the spirit of unsupported racing, and if you like it or not. These are the rules as they are.
History how it came to the disqualification and continue to the finish conditional
19.06.2022:
About 4 hours before the start Daniel Polman came to me and told me, that his friend will follow him and document his race with the camera. Daniel said, he learned about this project a few days back and his friend would have followed him with the camera also in the Red Bull Trans Siberia and did so in past races.
21.06.2022: E-Mail from a rider
"Czech support not rule conform".
21.06.2022
I followed Daniel south of Rovaniemi for a while. I could not see anything not conform to the rules. Then i made myself visible to Daniel and had a talk to him and he told me about his story, running out of water and drinking water from the river.
22.06.2022 / 13:25: E-Mail from Tadeáš Kopča
"hi Andy, here are some photos from the north. now we'd like to catch
Dan somewhere by the lakes. we also watched Bernd Paul finish the
race. what's wrong? didn't he break down or something?
Tadeáš Kopča"
[photos from Tadeáš ]
22.06.2022 / 15:29: E-Mail reply to Tadeáš Kopča.
"Thanks a lot Tadeáš!
Can i post them on Facebook/Instagram and on our website?
What credit do i write?

Make photos, okay, but if possible don't talk to him and he should not stop at your place.

The lakes are great place. Some bridges also there.
Do you have a possibility to track your position?
Please don't follow Daniel, just go to a place and maybe wait again there for next one 2 riders, before moving forward. It's too bad we did not know about you earlier and could organize it properly.

Thanks a lot for your cooperation.

Cheers,
andy"
23.06.2022 / 07:47: E-Mail from Tadeáš Kopča
Hi Andy, I'm sure you can post the photos. Credit —— thnx but
it is not necessarily.

As for Bernd, I'm very sorry that it turned out like this and that
you had to solve it at all. Anyway, we know why we're here, it's a
good for the whole ultra-cycling community and fans because we can
show how beautiful the race is. we stay as far away from Daniel as
possible, we haven't seen him all over central Finland, we don't talk
to him, we don't encourage him. any unfair action on our part is
completely out of the question. we are not cyclists, we are surfers
and I would rather go on a beach in France with my family and surf
instead of hacking in a small caravan for 20 days with two kids, but
we admire the physical and human performance of our friend who gives
incredible numbers. that is why we are here and I would be the first
to speak if someone acted outside the rules. now we are at the lakes
about 25 km from the town of sysma where daniel's tracker stopped. if
you have a list of tech highlights where to shoot nice pictures we
will be happy to take photos;) otherwise we will not be able to take
photos of other competitors. the gap is too big and with the children
we can't wait so many hours in one place and then move quickly and
dangerously to find Daniel. especially not in Central Europe where
there will be heavy traffic and small states. in the czech you will
see a lot of fans along the road and you will see what a good name
ultracyclists this man does. We will be happy to send you our
location, you need to send you the correct position on the map. this
route offers.
Tadeáš Kopča"

23.06.2022 / 11:00: E-Mail to Tadeáš Kopča
I gave him some locations where to take photos. Plus i wrote him:
"The only way we can do it, is when you make photos from the event (what Daniel may include) and not from Daniel only. Means, as mentioned before the start, you can not follow just Daniel."
24.06.2022 / 08:55: E-Mail to Tadeáš Kopča
"Hi Tadeáš
The photos are too small.
Maybe you can send it in a better resolution.
Thank you,
Andy"
24.06.2022 / 17:13: E-Mail from Tadeáš Kopča
"Hi Andy, we didn't meet Dan at all in Helsinki. we arrived in
Tallinn when he arrived for boat.
we keep the maximum distance and take
photos only on spot and so that the he does not see us.
so we do not provide any moral support.
if it is possible, we will definitely take pictures of other competitors
if it is in our physical strength.
I would also like to ask you for rules on how people in the guilds
can cheer for everything so that everything is according to the rules.
I would tell them today more info on soc.networks.
Thnx a lot
Tadeáš Kopča"
25.06.2022 / 09:46: E-Mail to Tadeáš Kopča
"Cheering along the route is allowed.
In this case i would not recommend allow anyone riding also a short part with Daniel.
Thanks,
andy"
no response

Daniel Polman stops in a parking that looks not convinient for a bike packer.
Asking Tadeas for his position.

27.06.2022 / 12:17: E-Mail to Tadeáš Kopča
"Can you please sned me your position right now.
Thanks
andy"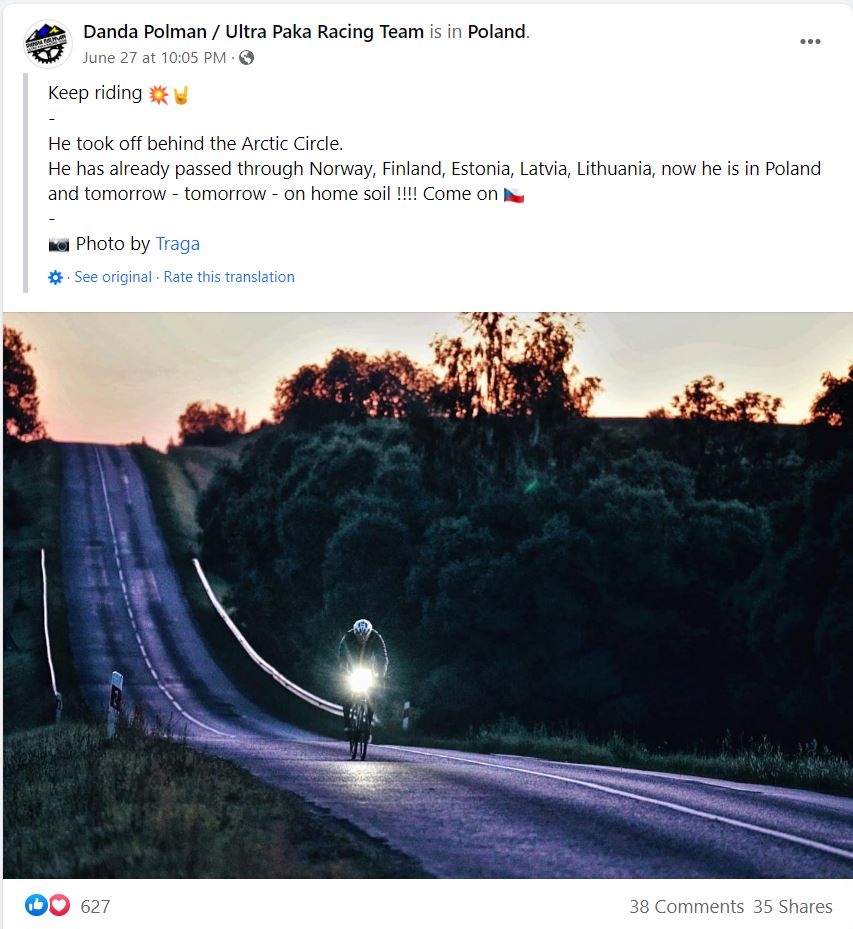 Every time i saw Daniel on the road, he was riding exemplary n the right side of the road. On all the photos Daniel is riding in the middle of the road. This looks like, it was staged for the photo.
[my photo from Finland]
29.06.2022 / 12:11: E-Mail to Daniel Polman
"Hi Daniel,
Nice all your posts and videos!
I also got forwarded the video from Finland in Czech TV.
Good to have publicity. But, not so good that the caravane is visible. It makes the impression you have a caravan with you.

I asked your friend a while ago, how far he will travel. If he will go till Tarifa.
No answer till today.
I also asked for the photos from the north in better resolution to make a post with it. He replied me to send it me but nothing came so far.

To stop the complainings from dot watchers and others, please leave your friend and photographer behind in Czech.
Make your own photos and videos. They are great.
What your friend planed to do, documenting your ride, needs to be planed in advance and can not be about only one rider.
(as said at the NorthCape)
It is not accepted by the community and bikepacking rules.
Thank you for your understanding.
Have a good ride and see you somewhere on the route 😉
andy"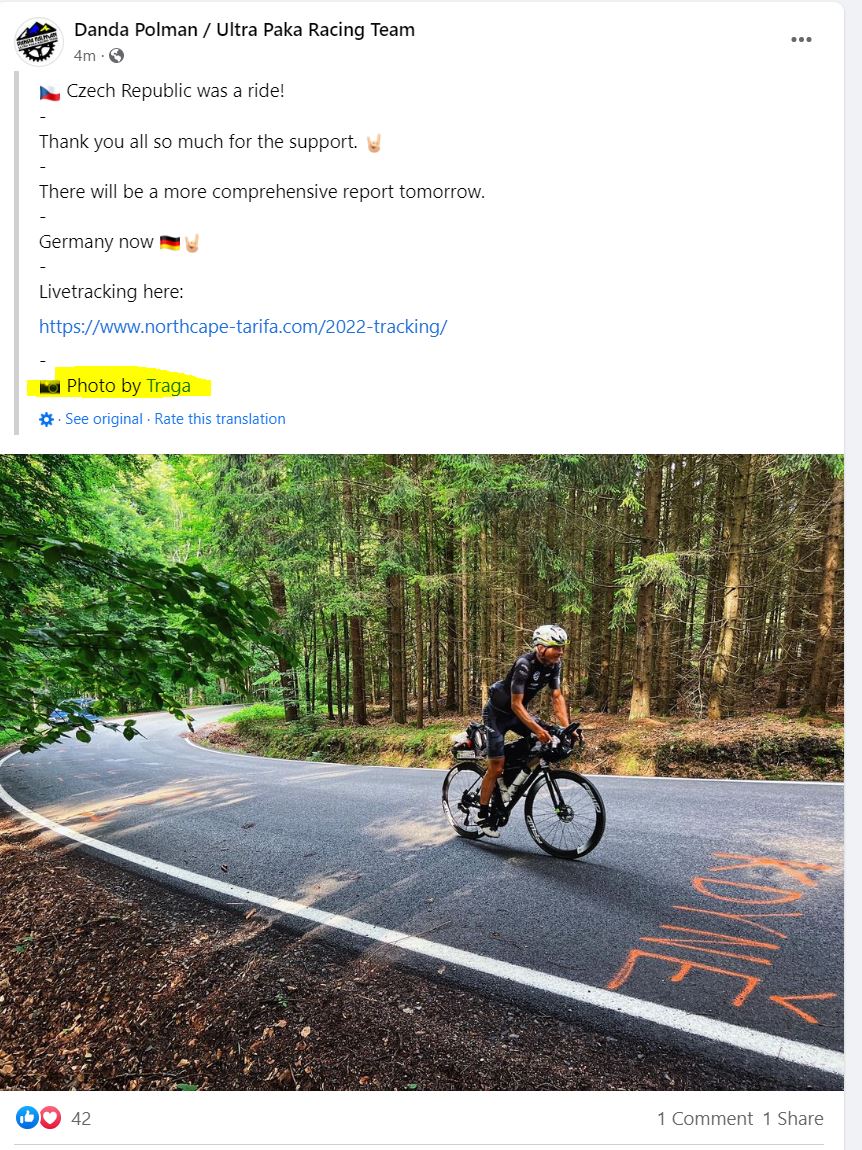 30.06.2022 / 02:13: E-Mail answer from Daniel Polman
"Hello Andy,
I'll ask my friends about the pictures and so on…
I'm racing totally alone:
– I never don't know where they are
~ we have no comunication, even not making interviews
– they are on their own family trip making pictures also for camper company and many others…
– it is sad, how some riders are tryiing to connect my achievement with cheating. The problem is their ego I guess…
– I read the rules of the race properly (signed them) – It is pitty, that the point concearning photographers wasn'mentioned.
The main goal is to shoot perfect pictures for the book.,, We are 100% fair
Good night from a bus station in Bavaria, where I bivy tonight.
Daniel"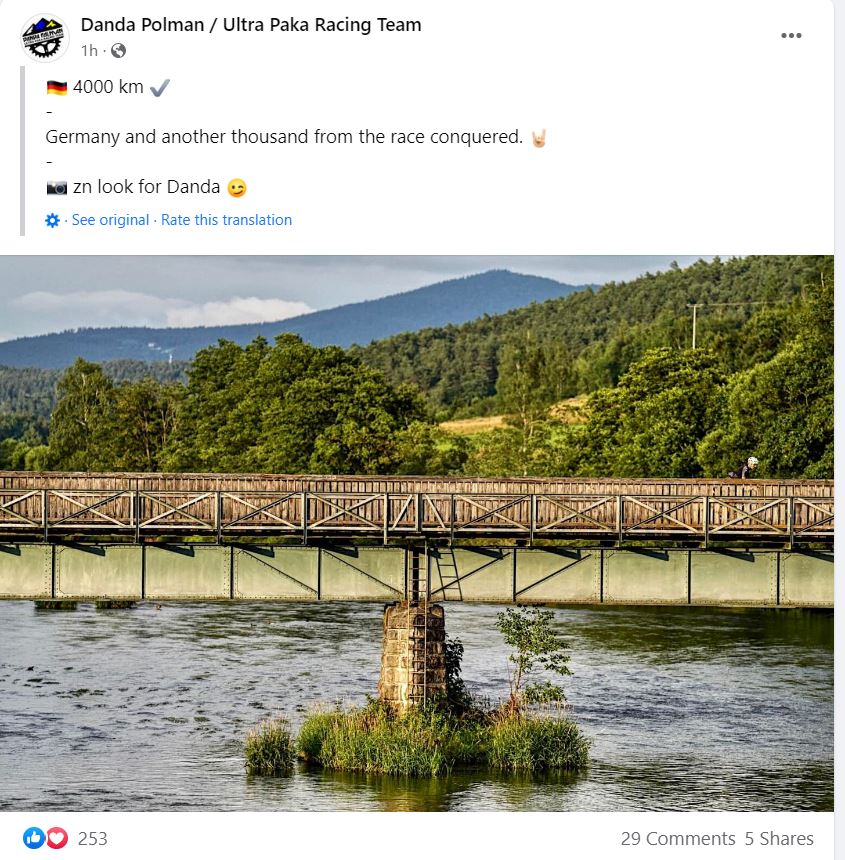 01.07.2022 / 09:54: E-Mail reply to Daniel Polman
"Hello Daniel,
"It is pitty, that the point concearning photographers wasn'mentioned."
We talked about 3 hours before the start.
Sadly your friend is not respecting what we agreed to make it possible.
https://www.northcape-tarifa.com/rules/
"2. Riders must be fully self-supported and not receive any private outside assistance."
https://www.northcape-tarifa.com/faqs/
"3. WHO ENFORCES THE RULES?
You do. The nature of these long distance rides makes them impossible to police by a third party, so the trust and responsibility rests solely on your shoulders to conduct yourself appropriately. If there is an obvious breach in this trust then the race director will make a ruling based on why, how and what rules were breached and if/what penalty would be given."

Everyone understand that in a self supported bikepacking event no one beside a rider is following along the route.
For all riders the same rules.
I already made an exception and tried to make it possible for you that your photographer can make photos from the event.
Sadly what we agreed before the start has not been respected from your photographer.

If we see one more photo from you, not made from yourself, or someone following you on the route, that means a disqualification from the event for you.
There is no room for further discussions.
Thank you for your understanding.
I wish you a continues good ride,
andy"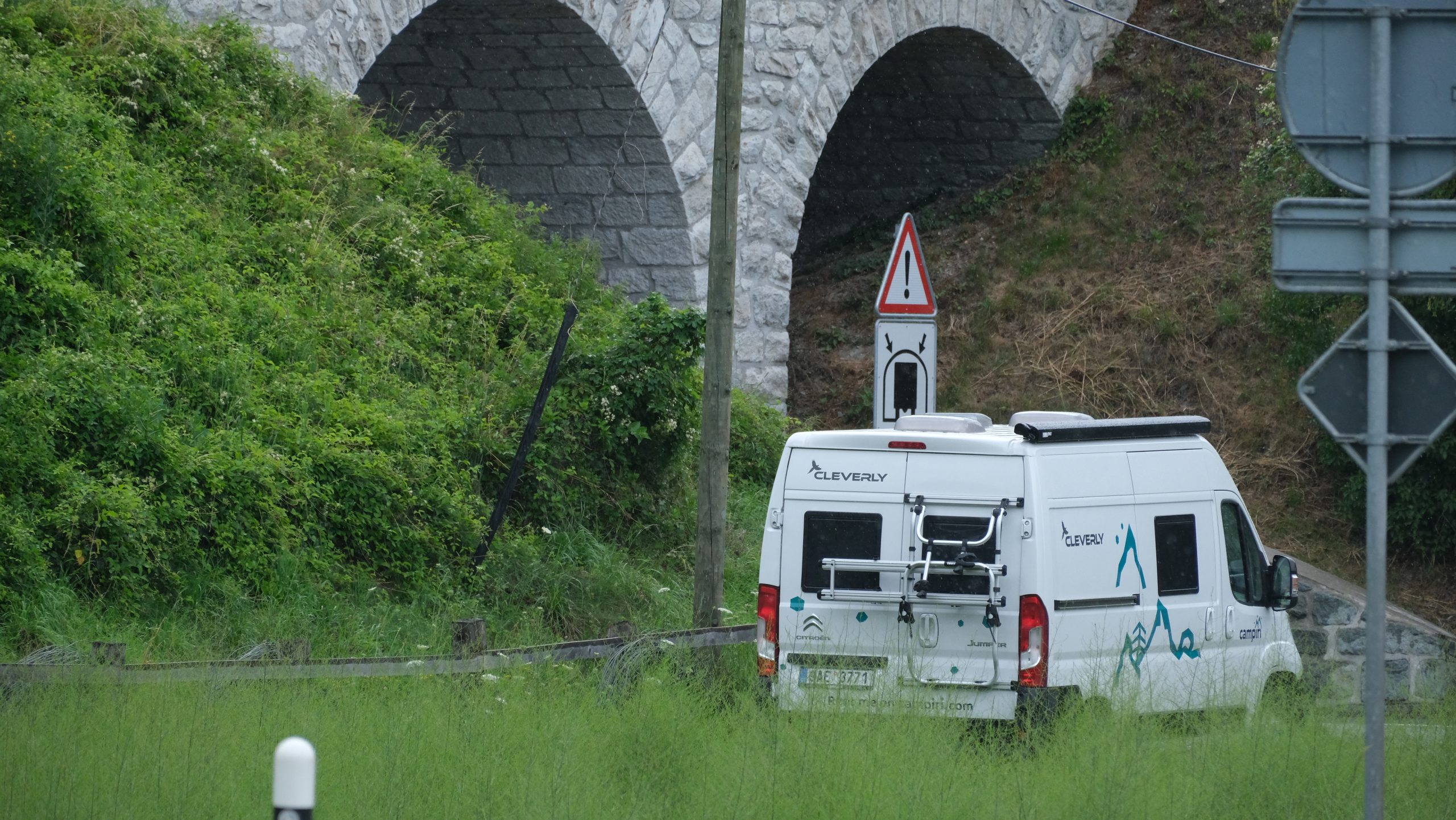 01.07.2022 / 09:54: E-Mail reply to Daniel Polman
"Hello Daniel,
Congratulations for CP2 Bregenz!
I was in Bregenz tonight and missed you.
I made photos near Mainfeld from you and before Tamins.
Next place was planed in the Rhein canyon with the drone and then continue towards Oberalppass-Andermatt-Gotthardpass.

Disqualification
I'm very disappointed, saw by chance the bus with Czech number beside the route, after a while someone left the bus and then when i went in the direction of the bus i saw Tadeáš.
He should not be here as i told you in the emails
– 29.06.2022 12:11
– 01.07.2022 09:54
It's not even possible to park the car nearer to the route as i saw it.
Doesn't metter he is telling me, you will not see him. Sadly your friend is following the route near you since the NorthCape.
He was waiting for you at the route between Reichenau and Bonaduz.
This is not what we agreed at the NorthCape before the start.
This is not in the sense of a self supported bike packing event.
I wrote you twice after your friend was not respecting our agreement, that he has to stop in the Czech.
I was not here, out on the route to search your photographer, i invested my time to make photos and videos from you as i do from other riders.

I will inform the other riders and change the status of your dot tonight.
Regards,
andy"
30.06.2022 / 02:13: E-Mail answer from Daniel Polman
(Daniel's his wife wrote from Daniel's email account the email)
"Hello Andy,
Greetings from the Czech Republic. I am Daniel's wife Šárka. Tadeas called me a while ago and begged me to check Daniel's email. I found out with horror that you want to disqualify Daniel! Daniel hasn't been connected to internet data all day, so he couldn't read your warning from this morning's email and has no idea what's going on right now.
Daniel has no idea where Tadeas is, he has no contact with him. I know this, because he calls home briefly once a day. Believe me, Daniel is an honest person and he would never stoop to some kind of cheating and breaking the rules, his conscience wouldn't allow it. This race is vitally important to him, he is very well prepared and mentally prepared to finish the race successfully and support his charity collection. He has a lot of fans at home, who are watching the whole event closely. We would all be very sorry, if this beautiful race had to end in this way.
Tadeas has already disconnected from the route at this point.
PLEASE, give him one more chance so he can move on.
Thank you very much in advance for the right decision.
Šárka and daughters Danica and Sára"
01.07.2022 / 17:32: E-Mail reply to Daniel Polman
"Hello Sarka,
He can continue but conditional.
Final decission at the end of the race.
andy"
02.07.2022 / 09:49: E-Mail answer from Daniel Polman
"Hello Andy,
I'm now back on the EU data. As I said, your race and success in it is my big priority. Tadeas didn't tell me his plans and I didn't know, that he is somewhere in Swiss. I had a an argue with him now, because their "spotting me" was their play and it feared my race. I'm sorry for that, but I could do noting more while racing all the time. (Wrote him one email). I hope, that everything will be cleared now. I'm making notices for the book, taking pictures, working also on the connected charity project.
Tadeas promised me (as well as you), that he don't occures on the NCT route.
As you saw, I'm the racer as each in the field – struggling with the race alone and without support.
Please – could we make a big dot after Tadeas and continue in the good mood till Tarifa?
I would be very glad. Let me just know, thank you!
Daniel"
Daniel Polman told me also when i saw him that day, that he told Tadeas, "it is time to take Andy serious".
01.07.2022 / 15:34: E-Mail reply to Daniel Polman
"Hi Daniel,
Continue and join the route!
Be focused on the route and yourself and post your videos and photos 🙂
See anywhere who knows where 😉
andy"
(Nothing mentioning that a possible disqualification is out of question. Trying to calm down the situation regarding of safety.)
02.07.2022 / 21:37: E-Mail answer from Daniel Polman
"Hi Andy,
thank you for your positive reply! I'm sorry for Tadeas. I'm very focused on the race, so he wasn't under my control as he should. Sorry for that. There was also problem, that since I entered Switzerland, my phone was switched to a fly mode…
I'm sure that we will enjoy the final week without any stress. Honestly I feel also much more free now, when I know, that Tadeas won't be spotting me.
I'm also prepared to write a statement for the comunity…
Have a nice evening,
Daniel"
The broken handlebar
10.07.2022 / 08:09: E-Mail from Daniel Polman
"Hello Andy!
I'm copimg with the spanish heats quite well. Just yesterday I had crash in a corner with sand near Lleida. I got some bruises, but I'm OK 😉.
Cheers
Daniel"
10.07.2022 / 12:05: E-Mail reply to Daniel Polman
"Hello Daniel,
Thanks to let me know.
Good you are okay.
Take care!
andy"
10.07.2022 / 00:50: E-Mail reply from Daniel Polman
"Thanx Andy, I made stop in Lleida at the ambulance station. The wounds got percect treatment. Doctor was very fine. Due to crash was also broken end part of the bars. I cut the broken pirce and mounted brake on the undamaged part. Crazy story… Anyway bike is OK – just with some wounds (same as me 😎.) Hope for having not more troubles. Looking forward to end this story in Tarifa 😉.
Cheers, see you!
Daniel"
11.07.2022 / 11:22: E-Mail reply to Daniel Polman
"Hi Daniel,
Gracy race, gracy stories 😉
Good you cleaned the wounds.
You should replace the handlebar. End was broken, so there could likely be more structural damage in the handlebar. You don't wona that it brakes in a downhill or anyway.
Cheers
andy"
Daniel Polman postet a video of his broken handlebar and how he is riding.
Some screen shots out of the video:
[images broken handlebar]
Daniel Polman was at that time about 500km further from the place he crashed and passed 2 cities with bicycle shops.
12.07.2022 / 00:12: E-Mail to Daniel Polman
"Hi Daniel,
I just saw your video with the brake.
Respect.
But please remember what i said at the briefing before the start:
A bike check can happen anytime on the route. 2018 i stopped Steffen the day he arrived at Tarifa and he had ro change his brake pads.
Do you think with your handlebar and brake your bike would make it trough the bike check at any event for the start?
In NorthCape-Tarifa and also in Iberica-Traversa it happened riders made a detour, left the route and rejoyned the route same place, to fix the bike.
Please respect that this setup will not make it trough any bike check. Also if again something.should happen, your insurance will make you serious problems.
I hope you understand that your bike has to be fixed before you can continue your ride. Means a new handlebar from what i see on the video.
Thank you,
andy"
12.07.2022 / 07:09: E-Mail reply to Daniel Polman
"Good morning Daniel
I see you continue on the route.
Please respect that your bike is not ready for what is in front of you to ride it safe.
The flat parts are behind you and the steepest downhills are still in front of you.
You are not allowed to continue with this bike setup.
After the lake comes the next pass with a downhill where you need a proper bike setup.
The brake mounted on the broken handlebar as in your video showed don't allows you a safe riding on this bike.
You are allowed to continue as soon your bike is fixed.
Thank you for your understanding,
andy"
Daniel Polman got a ride to a bicycle workshop and back to the route? From a private person?
The finish in Tarifa
After Matti and Irena reached CP Pico del Veleta, datas showed, since Bregenz Daniel Polman was significante slower as from the start till CP Bregenz.
Support? What kind of support?
Also when i believe Daniel, that he had no support, sadly his friend was on the route nearby Daniel all the time. Daniel's friend continued following Daniel also after i told Daniel, that his friend has to stay back in Czech and is not allowed, to continue following Daniel.
Mental support: It looks obvious, that the presence of Daniel's friend had some influence to Daniel's ride. The presence of Daniel's friend could result in taking more risk, wanted or not. Daniel writes in his email from 02.07.2022 / 22:37, "Honestly I feel also much more free now, when I know, that Tadeas won't be spotting me". So Daniel was aware, that his friend was around all the time.
Since the arrival of Daniel Polman at the finish Tarifa, we got a lot of hate emails and posts. Daniel says, this is social media and he can nothing do against. We think, this is very unsportive and Daniel is the source of these messages.